The Embroidery Process:
Embroidery is the sewing of a logo or other design into the textile of your choice. Popular products include baseball caps, uniforms, denim shirts, golf shirts, sport bags, jackets, and all styles of tee-shirts.
Apparel Selection:
This is a simple process of matching a garment style and color to fit your design, needs, and budget. Thread colors should be chosen as well, to match the garment color and the design. We are available to assist you in determining which colors and garments best fit your needs.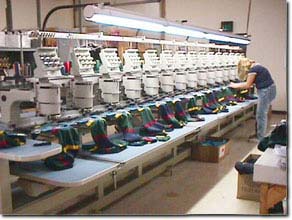 Our 15 head embroidery machines